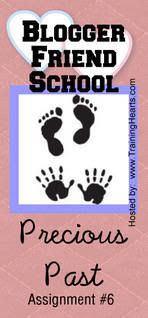 This week's assignment is to share a piece of your past. Our blogs are important pieces for our future generations, but when most of us were growing up, blogging wasn't around. I hope that this assignment will help you to share your past on your blogs. Each piece of our childhood years played an important part in who we are today.
The assignment is to post a baby picture.
&
Share a special scripture that reminds you of your past.
A peice of my past...well, I don't have any baby pictures of me here at my house, muchless on my computer, so at this time, I am not able to share that.
In all thy ways acknowledge him, and he shall direct thier paths. Proverbs 3:6