I spent this past week re-arranging the school room. Rog got us a new (to us) computer that we are going to let the kiddos use. As of right now, it has no operating system, but as soon as FIL has a chance, he is going to get it up and running for them.
Here is their table - with the computer - I am going to find a lazy susan to put the monitor on, and they can turn it to wherever they happen to be. Looking out the door and down the hall, you can see our large blank world map that we have been coloring in each area as we learn about it with Story of the World.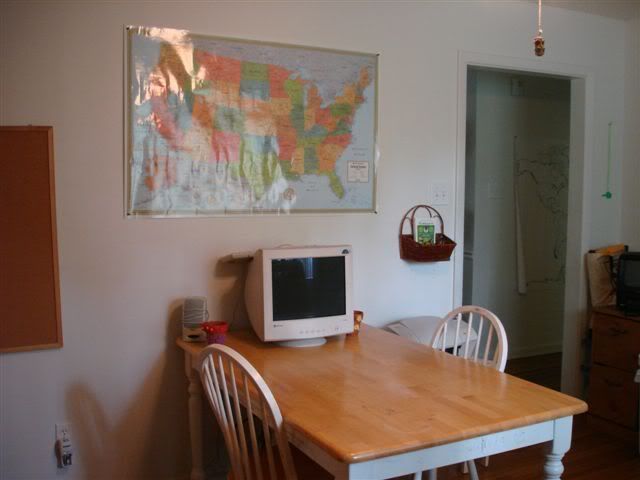 Here is my big cabinet that I can hide everything in...it has mostly stuff that I have that will be for a future use, as well as craft books, and supervised craft kits. The bottom part has puzzles, play-do and a few other things that don't really need to be supervised. Half of the bottom is all of my scrapbook stuff. The cart in the middle has their white/chalk board that they use all the time. The 3 drawers are MATH, SCIENCE and WRITING - math has things like counters, clocks, play money, science has the microscope and pieces, the telescope pieces, various zip baggies of feathers, shells (sea and turtle), and many other odd sciency stuff that they have found, the writing drawer has odd writing utensils, and letters, and other odd writing stuff. The tall open shelf is our daily shelf - the top has my teachers guides and the books I use, the 2nd and 3rd shelves are strictly the kiddos - 2nd is Sis and 3rd is Ry and all their school stuff are on those shelves. The bottom 2 shelves are encylopedias, dictionary, atlas, and other reference type books - all on an elmentary level. (Sorry -the lighting was really bad in that picture)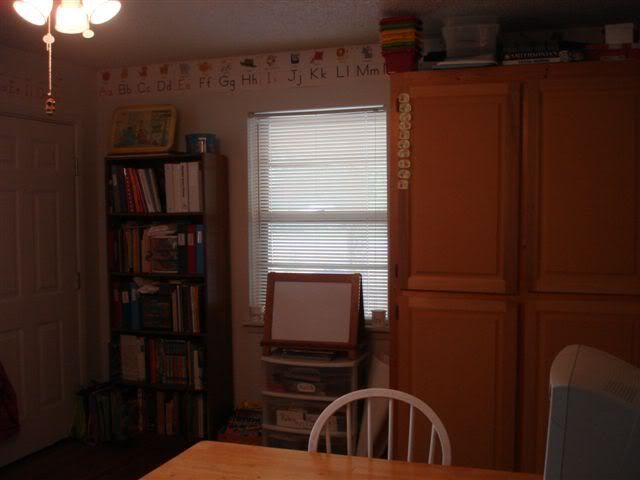 This desk is more of a teachers desk - it was given to us by some really great friends of ours. I use it for the current stuff - my lesson plan book goes on that desk, and any of our other stuff for the week is usually stored on here. I made the curtains (with the help of my MIL) for this window, for some reason, we have yet to get arund to making the ones for the other window (between the 2 cabinets). You can see my library bag hanging on the door - all finished and ready to return to the library books go in there. The big basket on the floor to the left of the desk - I paid a dollar for - with the plans for the go-along books for the week to go in there, but I have since found something I like better (also for a dollar!) -so for now, that basket is holding books that they can read! Not sure if that is what I am going to keep in there though.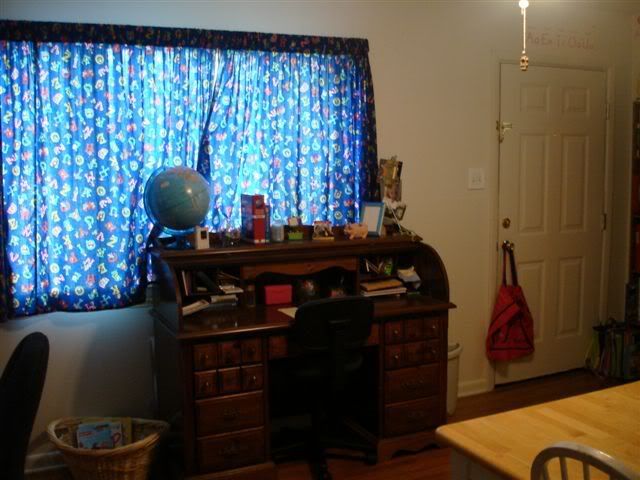 This is where I am now - my computer desk -messy as it may be! The shelf in the corner was one that was in my gramma's house. It now holds the arts and craft supplies. The plastic drawers on the top hold my cd's/math charts and other teachers aides that are mine, markers and glue. The wooden shelf on the top of this shelf is what I am going to put my go alongs on. I originally wanted to put it on the end of the school table, so it was easliy accesible, but I think I am liking the computer there instead!!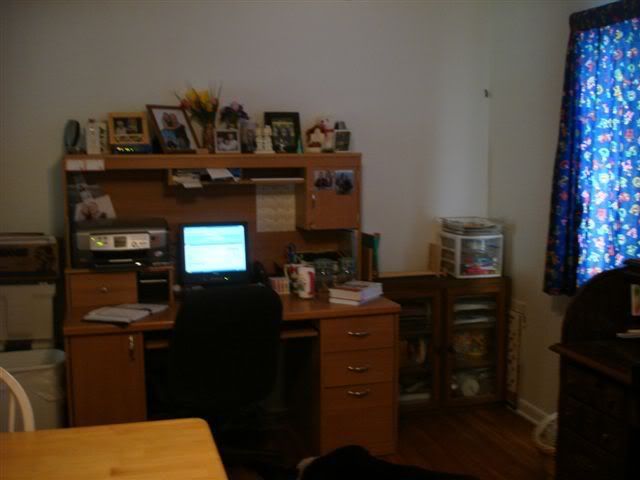 The walls are all blank because I took down the posters as I was moving big shelves around, they are not always this blank- they are ususally pretty overstimulating!!
Well, there is a walk through our room. I will be posting a walk through our curriculum soon, and then once we get started with school, I will be posing a walk through our days - or maybe a week in review - I haven't quite decided how I am going to do that.