SUNDAY ~ Rog got home at his normal time, we finished picking up around the house and packing to get ready to go and we hit the road. We left right at lunch time, so we ran thru McDonalds on the way out and got a burger. It took us almost 3 hours to get there - oh, we were camping at Crater of Diamonds State Park. Once we arrived and got checked in and found our campsite, we unloaded to get to the tent and started putting it up. About the time we got it up and were working on the rain-fly, it started raining - the tent got a little wet, but we got it covered and put the fan in there and it dried out just fine. It was a quick shower and was gone and back again by the time we got out the picnic table awning that we put up - in the rain!!
We tried -and failed miserably- at starting a fire - we had no lighter fluid and most of the kindling we could find was wet. So, we went to bed with out smores.
MONDAY~ We were woke up at 4:45 this morning to banging of the trash cans, and I asked Rog why were they picking up trash so early? He told me he thought it was probably a coon getting in the trash next to us. We got up to make a potty run and sure enough, the trash can next to us was tipped. We got up this morning and gathered our digging tools and headed to the diamond mine. It is a 37 acre field of dirt...that you can dig for diamonds in. We found us a spot close to one of the few shade trees and started digging. I though the kiddos would like the digging, but they got bored rather fast.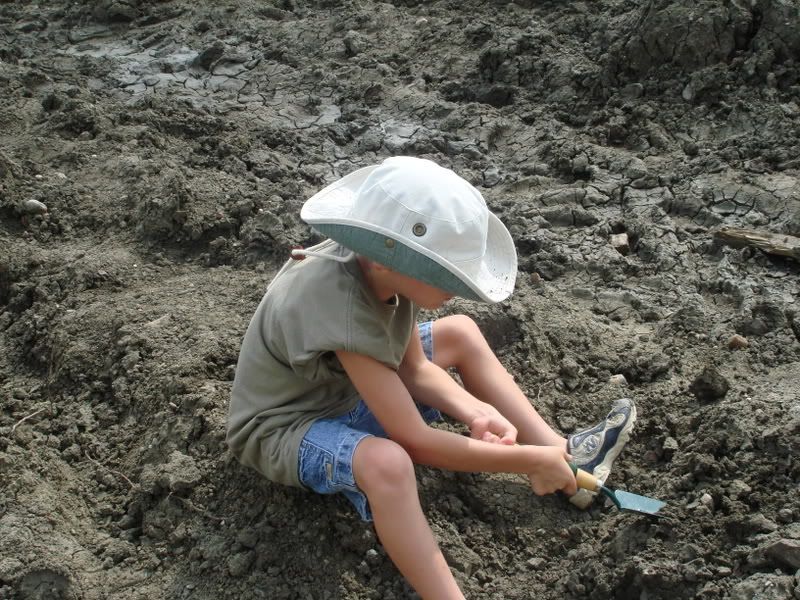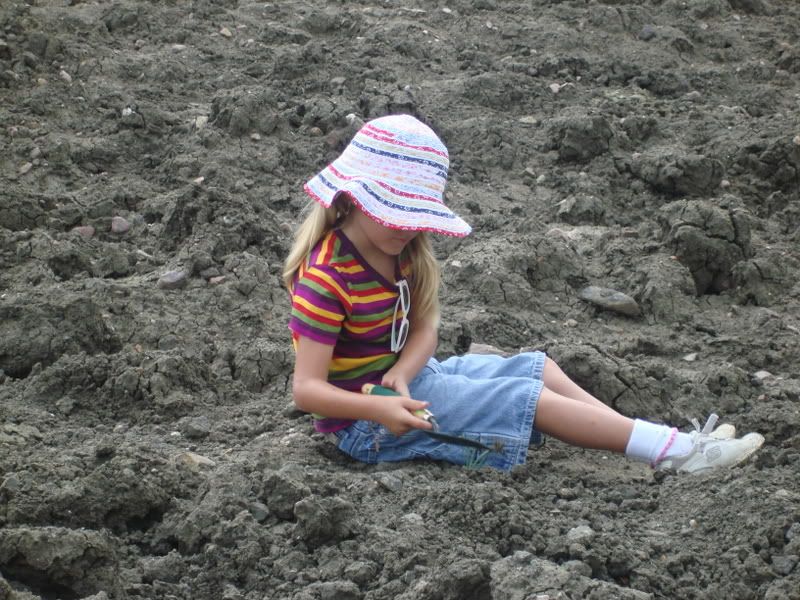 We were out there for a couple of hours and Ry found a clear quartz and I found 2 small pieces of calcite. It was extemely hot, so we went back to the campsite and the kiddos played on the trail by our tent. They also did a bit of bike riding It rained again on us as we were cooking dinner (PTL for our gas cooktop!- if not for it, we probably wouldn't have eaten). We didn't even attempt a fire tonight - just right to bed with out smores - again...
TUESDAY ~ It was cloudy and rainy all day, so we stayed close to the campsite, we did walk the trail that was y our campsite and another trail that was on the way in. One of the exciting things that we found - animal prints - on our table cloth-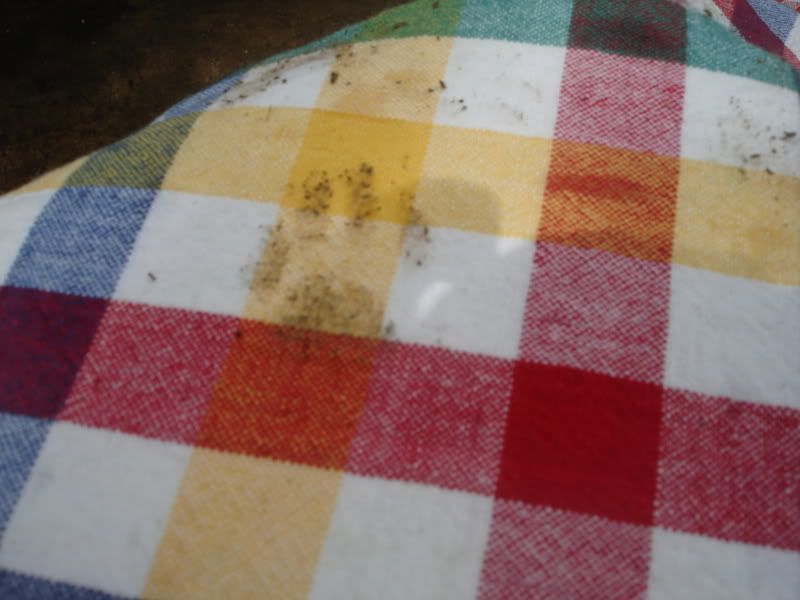 On the one by the campsite, Ry found a teeny frog - then they found tons of them! We carried them back to the sirte to observe for a while, then turned them back into the woods.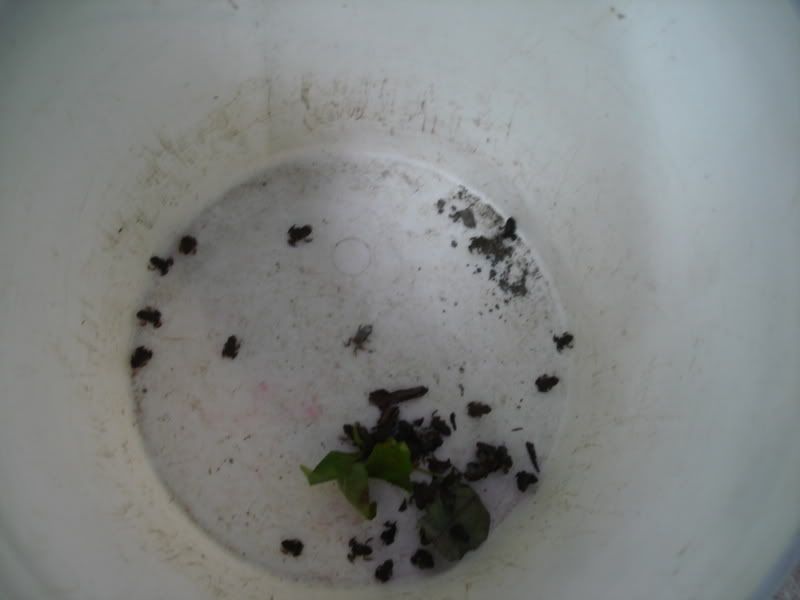 This is a 5 gallon bucket - and a few of the many teeny frogs.
The other trail was a Wildlife Observation Blind -it started raining on us about half-way to the blind - it was a covered blind, so once we got there, we waited the down pour out! When we first got there, there was an armadillo raoming the edge of the woods, but we must have been to loud or he didn't like the rain one, because we only saw him for a few minutes.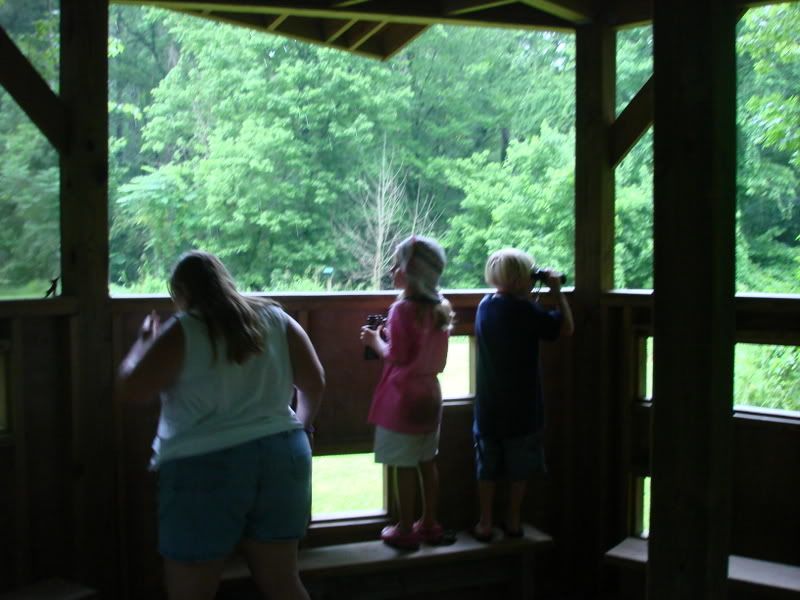 After the down pour, we headed back to the campsite and started dinner. As we were cleaning up from dinner, it started raining again. We got all cleaned up and packed away and hit the tent. This was about 6:00pm. While we were stuck in the tent, sitting in the middle as not to touch the sides of the already leaking tent, I read to them from chapter books. I read most of Pirates Past Noon, all of Night of the Ninjas and most of Captian Underpants (Rog helped me with that one - my throat was starting to hurt). It was then 9:00, so we headed out in the rain to the bathroom for the night, then off to bed. Rog and I woke up at 1:00 am to the pouring rain - and we woke the kiddos up and made a midnight potty run. It was still raining when we woke up at 8:00, but it stopped soon and was hot and dry all day Wednesday.
WEDNESDAY ~ We gave the kiddos the option of digging again or the water park - beleive it or not, it was actually a hard decision for them. In the end, the water park won out.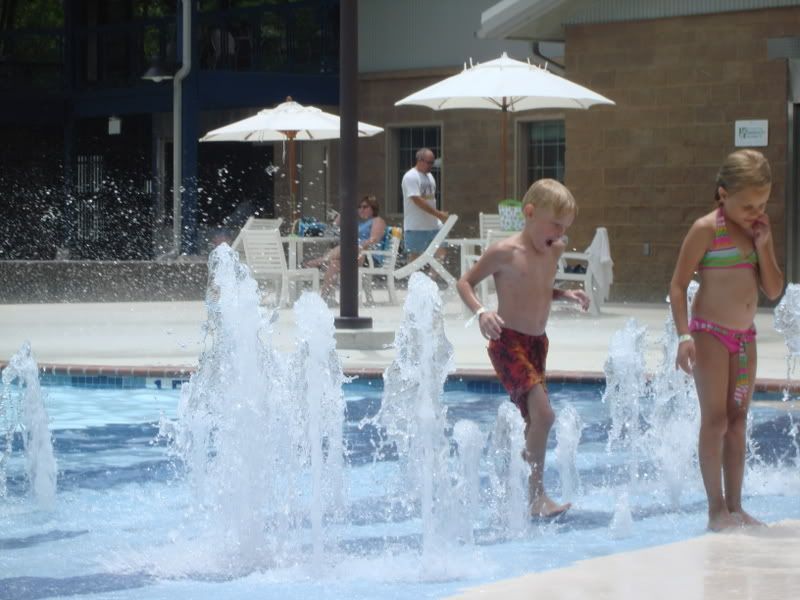 We were there when it opened at noon and stayed for a few hours, went back to the camp and let the kiddos eat whatever they wanted and then back to the pool. It cost quite a bit to get in and swim, so Rog and the kiddos paid t swim and I had to pay to hang out. I read one of the 2 books I took while they were playing in the water. Once the pool closed, we went back to the campsite and took showers and got cleaned up the best we could, then fixed a dinner of pancakes and bacon! YUM! As we attepmted the fire for the final nght, some firends of the family showed up and were camping 2 sites down from us. They had lighter fluid!! Success!! We have fire!! They joined us for some smores and a chat around the campfire - he is also a ff, so he and Rog always have something to talk about! The kiddos were tired, and they went to bed while we were still chating, but we weren''t far behind them.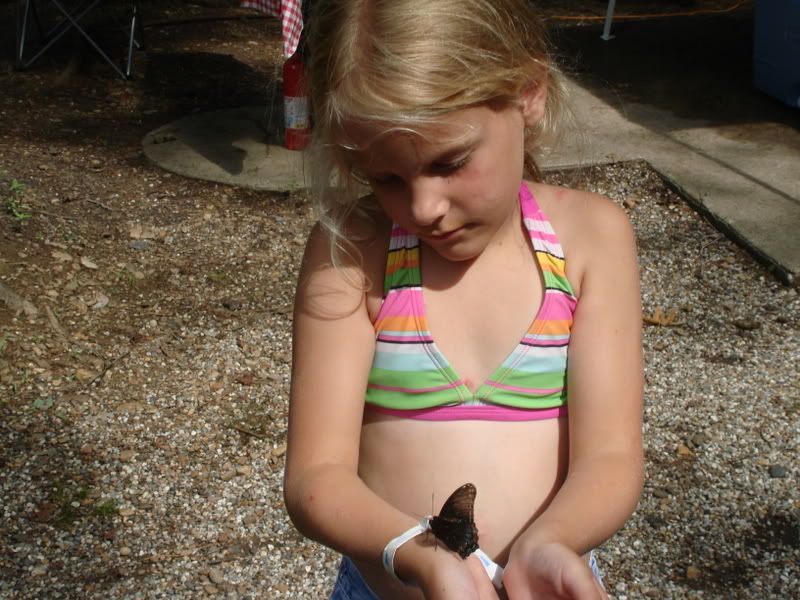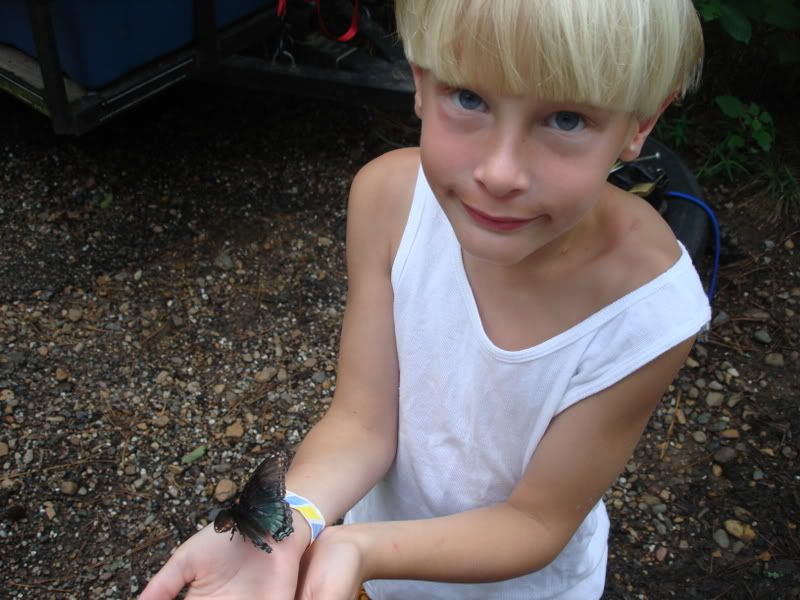 THURSDAY~ I am sad to leave, but I am so ready to go home!! We got up, unloaded (things were thrown and packed in sue to the rain) and reloaded the back of the Tahoe, packed up all the camping boxed and were down to just taking the tent down when we woke the kiddos up at 10:00am. We got everythng packed up and headed for home!