First, I need to say
HAPPY ANNIVERSARY ROGER
!!! I LOVE YOU!!! 10 years ago, we said our I Do's, and they have been the best 10 years ever! We have been thru alot. I would say we have pretty much covered all the bases - for better or worse, richer or poorer, in sickness and in health...been there done all that and I love him more today than ever! Now, back to our regularly schedule cruise trip details!!
We had to get up early this morning - we were docked in Grand Cayman at 7:00 am; but we didn't dock, we pulled up a bit out from the island and dropped the anchor and got on a little bitty crowded boat and went across to the island. I don't recall to much about my initial impression of George Town, we were herded to the bus for our excursion. The one thing that does stand out, they drive on the wrong side of the road there!! I was a bit freaked about that!! I was glad I was in the back of the bus and couldn't really see much - except the occasional car coming at us!!! Our first stop was the
Turtle Farm
. That was pretty cool. They have literally hundreds of sea turtles. Some are raised for breeding and some are raised for eating - we didn't try the turtle meat, but some people of the bus did and
is all I have to say about the smell that breezed thru the unairconsitioned bus in the heat index 105* degree island!! They were so cute and heavy - we got to hold one, when they get nervous they flapped their flippers, and to make them stop, you press on a nerve in their neck.
While we were there, the bus overheated (this my friends is why I will always book our excursions thru the cruise line - it really does happen to people!- but since it was early, it didn't cause us to miss the boat!!) so, we lost a bit of time. Once the guy got it started, we went to theTortuga Rum Cake Factory. It was pretty crowded, so I went outside to look at the view
while Rog waited in line and got us both a bite of Rum Cake. I didn't like it! After there, we headed towards the town of Hell - we didn't stop there due to the bus issues that morning, but we did get to drive thru it and snap a couple of pictures.
From Hell, we went straight to a large party barge that took us out into the Caribbean Sea about 35 minutes from the island to
StingRay City
. StingRay City is a sand bar that is about waist deep out in the middle of the sea and boats (mainly tour boats) pull up, drop an anchor and let you off the back of the boat.AND~ Yes, I did it, even after the tragic death of Steve Irwin, I got in the water with the stingrays.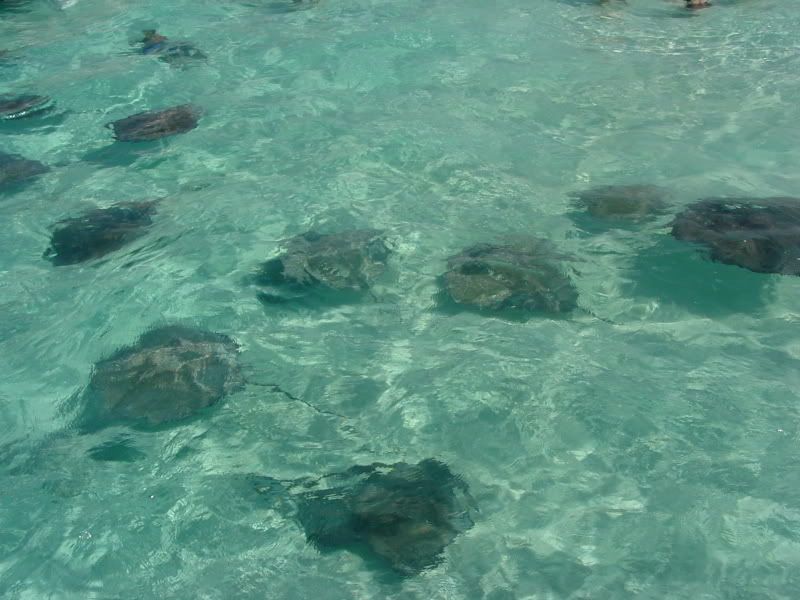 Now, I will be honest with you, I got in, stayed long enough to get some proof and then I got right back out!!! My main issues were the waves, they were a bit rough, and the salt water in my eyes didn't feel that great with my contacts. But the stingrays freaked me out a bit as well...there were tons of them, and they just floated along the water, brushing up against your legs (eeww!!) and they were very 'trained' because I was watching from the boat - looking down over them and when another boat would drop it's anchor, they would float over there. The tour boats (well, at least ours did) provided us with squid for you to put underneath them and let them suck it out of your hand. The guide told us they have no teeth, that they just suck and if they sucked your thumb up, you could just pull it back out and they wouldn't hurt you. I wasn't in the water long enough to feed them, nor would I have tried to with the waves the way they were bouncing me around, and I don't think Rog got a chance to feed either. However, he did get to hold one!!
I was not upset about it one bit. After about 30 mintues, they loaded up the boat and took us back to the dock and our tour bus took us back to the tender boat to take us back to the ship. The last tender boat was going back at 3:15 and we got on it at 2:55, so we had a full day on the island and were glad to get back on the ship.
Tonight was the 2nd(last) formal night, so we dressed up - something that we NEVER do- and went and got our pictures taken (if you click on the happy anniversary at the top, it will take you to the post with our picture on it) and went to dinner. Rog had lobster tails and I had prime rib. Dinner was very nice!
All in all it was an awesome day!!!